MEDIANA i30 Body Composition Analyzer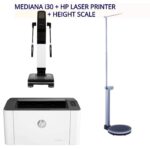 MEDIANA i30 Body Composition Analyzer
KSh1,740,000.00
KSh1,740,000.00
Mediana i30 Body Composition Analyzer is lightweight and compact, making it easy to transport and use in various healthcare settings, such as emergency medical services, clinics, and hospitals.
Description
Specifications
Reviews (0)
Documentation
Description
Mediana i30 Body Composition Analyzer is a portable patient monitor designed for use in a variety of clinical settings to measure a range of vital signs, including ECG, heart rate, blood pressure, oxygen saturation, and respiratory rate.
Features
Advanced Body Composition Analyzer
Multi-Frequency Analysis Technology (5, 50, 100kHz) and Segmental Body Composition Analysis
Easy operation via touch screen (7 inch) and simple interface
Children measurement available
Body Composition Analysis: Total Body Water, Muscle Mass, Fat Mass, Fat Free Mass, Protein, Mineral, Skeletal Muscle
Skeletal Muscle & Body Fat Analysis: Weight, Skeletal Muscle Mass, Body Fat Mass Assessment
Segmental Analysis: Segmental Muscle, Fat and Body Balance Assessment
Weight Control: BMI, Obesity Degree, Desirable Weight, Weight/Body Fat/Muscle Mass Control
Visceral Fat & Abdominal Fat Ratio Assessment
Intake & Consumed Calories: Basal Metabolic Rate, Total Energy Expenditure, Calorie Consumption, Expected Fat Burning
Mediana Score, Segmental Weight and Impedance, Calorie Consumption table per Exercise, QR code for Mobile App
Applications
It is used in hospitals, gyms, nursing homes and schools to analyzing , measuring, and monitoring essential body composition parameters based on bioelectrical impedance analysis (BIA) person.
Additional information
| | |
| --- | --- |
| Display Type | Customized LCD |
| Brand | |
| Power | Power Input AC 100~240V, 50/60Hz, 1.2A,Power Output DC 12V, 3.33A |
| Interface | Mini USB, RS-232C 1EA, USB |
| Application Areas | Health and Fitness Centers, Hospitals, Hospitals (dialysis),medical research centres, Hospitals (Paedetricians to weigh toddlers), Hospitals(body composition analyzers for children), Medical research centers, Schools |